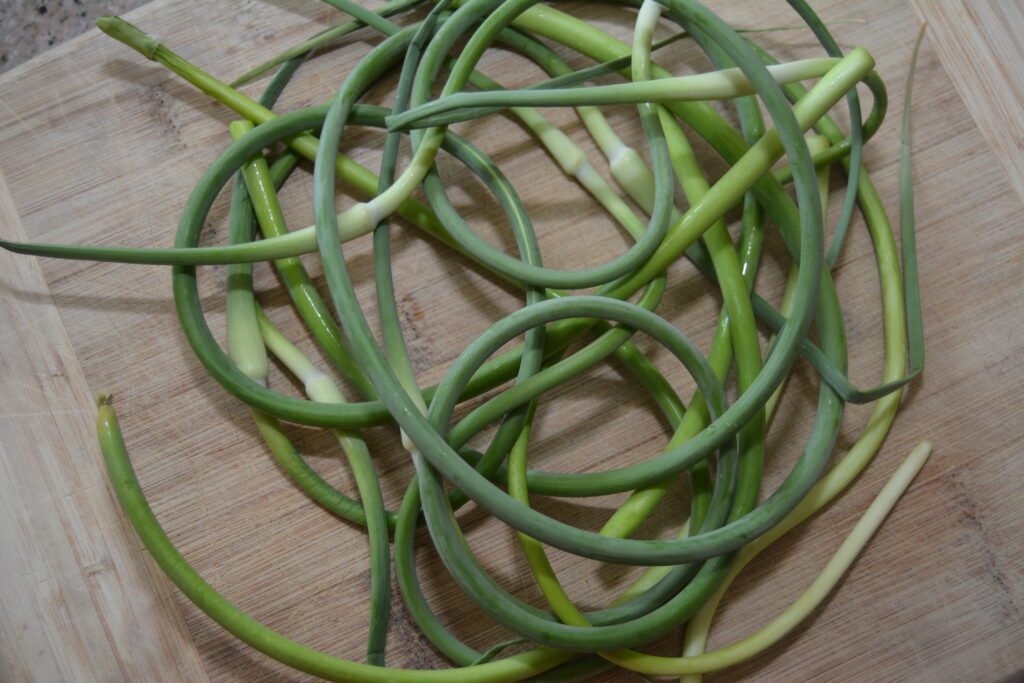 Garlic scapes are the tender green stem and flower that arise from the center of a hardneck garlic plant in late spring here in Ohio.  Each garlic plant only has one scape and if the scape is not pulled, it will eventually flower. 

Garlic plants are one of the few plants that you can get two harvests from.
The first is the scape that you get now in the spring and the second is the actual garlic bulb later in the summer.

The garlic scape is pulled from the garlic bulb to allow the garlic bulb to send its energy into creating a larger bulb and not spending all that energy on creating a flower.
Garlic scape flavor is similar to the garlic bulb that it is pulled from but not as strong as actual garlic and it tends to have a fresher, greener taste.
It has a texture similar to asparagus.

Garlic scapes can be used as you would use garlic but they need to be stored differently. They will last several weeks in your crisper drawer in your refrigerator or you can cut them into small pieces and freeze them to use later in the year. You can dehydrate them and then grind them to make garlic scape powder as well.

There are as many uses for garlic scapes as there are uses for garlic itself!

Garlic scapes can be eaten raw or cooked. Garlic scapes can be sautéed, pureed, roasted, grilled, and pickled. They can be chopped and added to soups, stews, and salads, and stir-fries. They can be pureed and added to cream cheese to make a spread or simply made into a pesto. They can be diced and used on baked potatoes, salads, or on top or in scrambled eggs.

More ideas……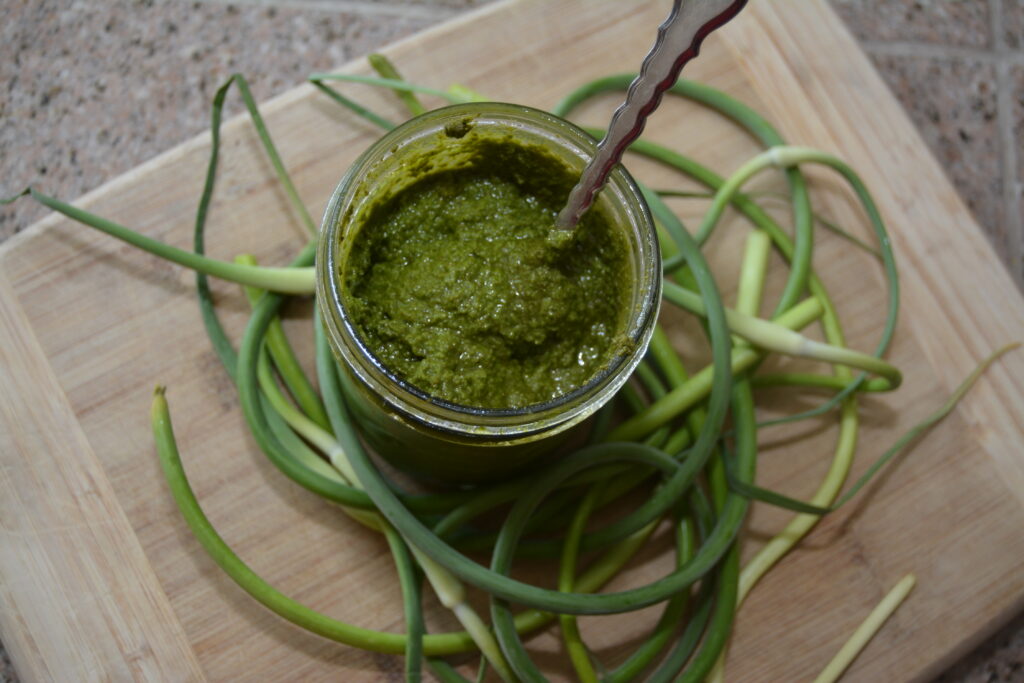 Heat up butter and olive oil and add chopped, diced or pureed garlic scapes to it, simmer and then use as a spread for garlic bread.
Chop small pieces of garlic scapes, cut an onion into 8 sections not separating the sections of the onion and drop garlic scapes into the center with some butter, wrap in foil and cook on the grill for about an hour.
Chop your garlic scapes into small quarter to half-inch pieces, freeze on a cookie sheet and when frozen put in a plastic zip bag and store in the freezer for later use. You can then add the scapes to winter stews, chili, or soups. You can make a winter pesto or cream cheese spread. You can use it in your turkey stuffing or add as an aromatic to your turkey at Thanksgiving.
Grilled garlic scapes – coat your scapes with a little olive oil (or whatever you use) place on the grill a few minutes prior to your meat.
When you go to turn your meat over on the grill, take the grilled scape and slice it open the long way and rub it/place it on top of the hot, cooked side of the meat. Close the lid of the grill and let the garlic scape's juices/oils flow into the meat. If you are also doing baked potatoes, use the same scape to top your potato. (I am sure this can be done with a veggie burger as well, yet I have not tried this.)
As stated previously, garlic scapes have as many uses as garlic does. You can use garlic scapes, as you would garlic. It has been suggested though to use one or the other and not both at the same time as the garlic flavor can be very strong. (Unless that is what you are looking for.)

Enjoy experimenting with garlic scapes and eating the wonderful results of your efforts.
Let us know how you're using garlic scapes! We'll see you at the farm!